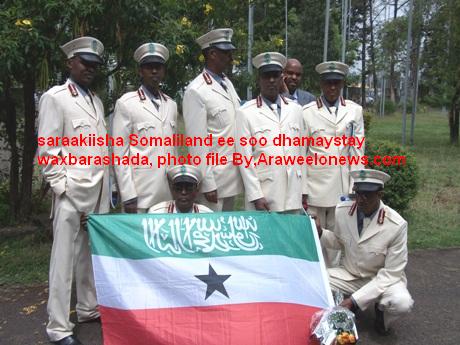 Hargeysa(ANN)Saraakiil ka tirsan Ciidanka qaranka somaliland ayaa soo dhamaystay tababar  loogu laylyay sarakaalnimo, kuwaas oo mudo laba sannadood ah tababarkaa ugu maqnaa dhinaca dalka Ethiopia. Saraakiisha oo ahaa todoba xubnood waxa loo laylyay hogaaminta ciidanka,  iyagoo
soo dhamaystay waxbarasho mudadaa labada sannadood ah ay ka qaadanayeen  kuliyada hogaaminta ciidamada iyo shaqaalaha ee Milateriga oo magaceedu yahay  Ethiopian Device Command And Staff College,   waxayna mudadii ay halkaa ku sugnaayeen baranayeen duruusta dhinaca Milateriga ee hogaaminta iyo tababarka la xidhiidha ee heerka saraakiisha.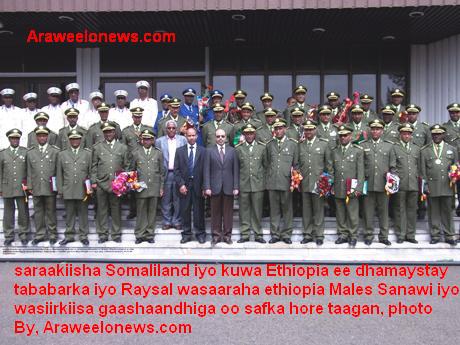 Somaliland iyo iyo Ethiopia waxa ka dhexeeya xidhiidh is kaashi oo dhinaca tababarada ciidanka iyo dhinaca nabadgelyada ah.  Waxaana hore tababaro dhinaca milateriga ah uga soo qaatay saraakiil baddan oo ka tirsan ciidanka qaranka Somaliland. Laakiin tababarka saraakiishan todobada ah ayaa ahaa kii ugu horeeyay ee noociisa ah ee saraakiil ka tirsan ciidanka qaranku soo qaataan, kuwaas oo si toos ah u galay kuliyada Milateriga ee hogaaminta iyo shaqaalaha ciidanka (Ethiopian Device Command And Staff College).
Munaasibadii  shahaadooyinka lagu gudoonsiinayay saraakiisha dhamaystay waxbarashada kuliyadaa ee dhinaca Milateriga  oo isugu jiray Somaliland iyo Ethiopian waxa kasoo qayb galay raysal wasaaraha dalka Ethiopia Males Zanawi  iyo wasiirka gaashaandhiga ee dalka Ethiopia.
Mid ka mid ah saraakiisha Somaliland ee soo dhamaystay tababrkaa ayaa u sheegay  todobaadkan shebekada wararka ee Araweelonews inuu aad ugu faraxsanyahay waxbarshada ay soo dhamaysteen iyo inuu kusoo laabto dalkiisa laba sannadood ka dib.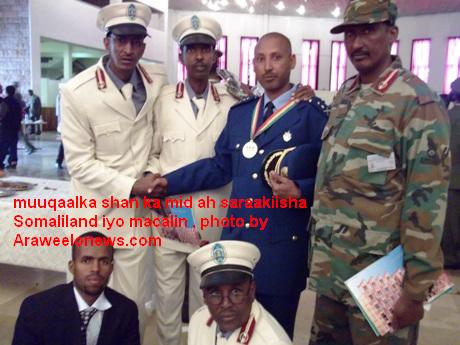 Araweelonews Mobile
Somaliland Office    
E-mail; Info@araweelonews.com
jaamac132@gmail.com
shalcaw2@hotmail.com