London(ANN/Amnesty) In Kenya, human rights violations against refugees and asylum seekers are thousands of Somali lives at risk, Amnesty International said in a report released Wednesday, December 8, 2010. Entitled Kenya: From Life Without Peace Without peace to life , this paper shows
  that thousands of people fleeing the violence in Somalia can not find shelter, protection or durable solutions in Kenya, the boundary between the two countries was closed it nearly four years for security reasons.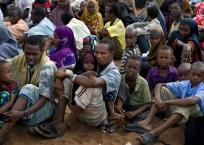 "Continued fighting and the horrendous human rights abuses committed in Somalia are a proven threat to the lives of tens of thousands of children, women and men.No Somali should be forcibly returned to southern and central Somalia, "said Michelle Kagari, Deputy Director of Amnesty International's Africa Programme.
In November, some 8,000 Somalis who fled to Kenya to escape the intense fighting in the Somali town of Belet Hawo, were ordered to return to their country by the Kenyan authorities. Kenyan police then forced some 3,000 of them to return to Somalia, where they remain at risk of being subjected to serious human rights violations.
"Many Somalis have no choice but to cross the Kenyan border. However, Kenya had closed the filter center located near the border, no Somali is registered immediately and no one is being screened. As might be expected, this measure does nothing to resolve national security problems in Kenya. "
In the wake of an outbreak of violence in December 2006, Kenya has closed its border with Somalia 682 km, arguing that fighters who have links with al Qaeda were likely to enter the country and jeopardize the security National.
However, because of the porous border, Somalis have continued to flee their country and seek refuge in Kenya. Kenyan authorities have closed their eyes to the continuing influx of Somali asylum seekers crossing the border, which calls into question the effect, if it exists, this closure on the situation in terms of safety.
During a meeting with Amnesty International in March 2010, the Kenyan Minister of Immigration has in effect admitted that "close the border [had] no beneficial effect. We better filter [Somali asylum seekers] to know who they are. "
In his detailed report, Amnesty International says that since the closure of the border, the Kenyan security forces have forcibly returned asylum seekers and refugees in Somalia, they have extorted bribes bribes and arrested and arbitrarily detained. The Somalis are regularly harassed by the Kenyan police in the border areas, in refugee camps in Dadaab in the north-eastern Kenya and in urban areas, including Nairobi.
A Somali woman aged 55, told Amnesty International in March 2010:
"I arrived in Dadaab seven days ago via Dobley. Dobley stopped after I spent six days in jail in Garissa.I came by car with 25 other Somalis. We've all been imprisoned … I had four children with me: a 11 year old girl and three boys aged nine, eight and three years. Kenyan police told us: "You are illegally entered the wrong road." I had to give them 5,000 Kenyan shillings [47 euro]. My relatives had to send me money. "
The three camps in Dadaab are already extremely crowded. Originally designed to accommodate 90,000 refugees, they now host over 280 000. The pressure is therefore considerable residents' access to shelter, water, sanitation, health and education. The Kenyan government has dragged its feet before allocating new land to accommodate the growing population of refugees.
The refugees living in Dadaab have told Amnesty International that the camps themselves were becoming less and less safe and that members and supporters of al-Shabab, an Islamist armed group in Somalia, lived there or moved about, and sometimes there were recruiting refugees to fight in Somalia. Kenyan security forces have also been implicated in the recruitment of Somali refugees for military training in late 2009.
"In the camps Daadab, we are now facing a crisis, argued Michelle Kagari. Somali refugees are stuck between a zone of conflict and what some describe as an open prison, because Kenya does not allow them to leave the camps without special permission. Refugees who have been in Kenyan cities live in poverty and are vulnerable to police abuse.
"Kenya supports a disproportionate responsibility for the massive flows of refugees from Somalia and needs more assistance from the international community, particularly countries of the European Union (EU), to provide lasting solutions to these people. "
Amnesty International urges the Kenyan government to ensure that Somalis fleeing the gross human rights violations and violence without discrimination find refuge on Kenyan soil and will receive effective protection.
The organization also urges the international community and donor partners of Kenya to share responsibility for the refugee crisis in Kenya, strengthen resettlement programs and support local integration projects to improve the lives of refugees Kenya.
Learn more
Kenya: From Life Without Peace Without peace to life (report, December 8, 2010)
source amnesty. org
By,  Carraale  M. Jama  Freelance Journalist and Human Rights Activist 
Araweelonews Somaliland Office  
E-mail; Info@araweelonews.com
 jaamac132@gmail.com
 shalcaw2@hotmail.com
+252 2 442 5380