ADDIS ABABA(ANN /Reuters) – Eritrean President Isaias Afewerki fears the United States will try to kill him by firing a missile into his residence, according to a leaked cable from the U.S. embassy in Eritrea. In the cable released
on Dec. 15 on WikiLeaks, former U.S. ambassador Ronald McMullen wrote that Isaias also believed Ethiopian Prime Minister Meles Zenawi tried to have him killed 14 years ago.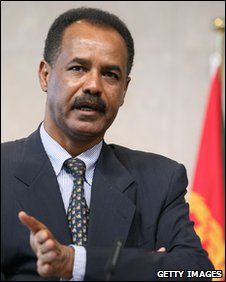 "Isaias thinks the United States will attempt to kill him by missile strike on his residence in the city of Massawa," the cable said, quoting a U.N. official.
Eritrea is one of the world's most secretive nations and has has border disputes with Ethiopia and Djibouti.
Analysts and rights groups accuse the Eritrean president of subjecting his opponents to arbitrary detentions and torture.
The U.N. Security Council imposed sanctions on Asmara last year, alleging it had provided funds and weapons to Islamist insurgents in Somalia, a claim it denies.
Asmara accuses the United States of masterminding the sanctions resolution. Eritrea denies that it is working to destabilise its neighbours, accusing Ethiopia of conducting a "smear campaign".
The cable showed that Isaias believes Ethiopian Prime Minister Meles tried to have him killed in 1996 when the two were on friendlier terms before falling out over a border dispute in 1998.
Mcmullen wrote that Meles offered Isaias, his family and his inner entourage one of his aircraft in 1996 to fly them to Eritrea after a stopover in Addis Ababa from a holiday in Kenya.
"Isaias accepted the offer; en route the aircraft caught fire, but managed to turn back and land safely in Addis," the cable said.
"According to someone who was on the aircraft, an infuriated Isaias accused Meles to his face of trying to kill him and his family. Isaias has not trusted Meles since."
Ethiopian government Spokesman Shimeles Kemal dismissed the suggestion that Meles tried to have Isaias killed.
"It's a baseless rumour. We don't have to respond to second-hand information which came from unreliable sources," he told Reuters on Saturday.
Eritrea used to be a part of Ethiopia and waged a 30-year struggle for independence. The two countries fought a 1998-2000 border war that killed at least 70,000 people, and relations have been bitter since.
Asmara accuses the United States of siding with Ethiopia their unresolved border dispute. (Editing by George Obulutsa; editing by Andrew Roche).
Source: Reuters
By,  Carraale  M. Jama  Freelance Journalist and Human Rights Activist 
Araweelonews Somaliland Office    
E-mail; Info@araweelonews.com
jaamac132@gmail.com
shalcaw2@hotmail.com
+252 2 442 5380