ST. PAUL, Minn. — Jury selection began Tuesday in Nashville in the case of an alleged sex-trafficking ring with strong ties to the Twin Cities.
Fifteen defendants are facing federal trial. Back in November 2010, federal prosecutors in Tennessee indicted 29 people on charges of running a child-prostitution ring.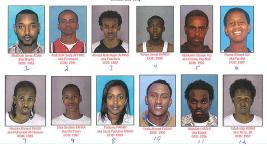 (Several mugshots from arrests of an alleged multi-state prostitution ring. (Image courtesy of US District Court in Tennessee)
Most of the defendants are from Minnesota. Authorities say the trafficking operation was controlled by three Twin Cities gangs: the Somali Outlaws, the Somalia Mafia, and the Lady Outlaws. A 30th defendant was added to the case last year.
So far, not a single defendant has pleaded guilty.
The sheer scope of the case is unusual and the trial could last two to three months. The remaining 15 defendants will be tried later.
The government says the gangs recruited Twin Cities girls to have sex in exchange for cash, marijuana and booze, and that the victims were as young as 12. But at least one defense attorney is challenging the age of one victim, saying her birth certificate was forged and that there is no true record of her birth.
Araweelonews Mobile
Somaliland Office    
E-mail; Info@araweelonews.com
jaamac132@gmail.com   
shalcaw2@hotmail.com