Washington (ANN/CNN) — Haunting and candid videos emerged of Osama bin Laden on Saturday, never-seen-before footage that provides clues into the psyche and stature of the world's most wanted terrorist.
Intelligence officials on Saturday unveiled five different videos of bin Laden that were confiscated from the raid by U.S. forces at his Pakistan compound, which left the al Qaeda leader and four others dead.
Officials say the new videos and other information collected from the site in Abbottabad are considered to be the most significant amount of intelligence ever collected from a senior terrorist.
The video and other intelligence show that the slain al Qaeda leader was very much in control over the network's day-to-day operations, according to Pentagon officials briefing reporters.
The intelligence reveals that bin Laden and al Qaeda had a driving interest in taking on the United States and that the leader was involved in the details of plotting attacks.
There is no audio to accompanying the video, punctuating the chilling imagery and keeping his words from being used as, officials say, militant propaganda.
One video looks like a home movie, a portrait of an old man watching television, but it is an image of a terrorist and suggests how conscious bin Laden was of his image.
Sporting a white-gray beard, bin Laden is seen sitting in front of a small television, flipping through a selection of satellite channels as he intently views video footage of himself.
A hunched Bin Laden is wearing a dark wool cap with a blanket draped around his shoulders, holding a clicker and slightly rocking in his seat in spartan surroundings.
One of the videos is a message to the United States officials believe was recorded in October or November. In that video, bin Laden's beard has been dyed black and he was well-composed as he delivered his message.
The three other videos are practice sessions for videos he was planning to release to the world.
The photos were released amid the Obama adminstration's decision not to release photos of the slain bin Laden and buried the terrorist leader at sea.
A senior intelligence official briefing reporters at the Pentagon said last week's raid by U.S. forces yielded a significant amount of intelligence, and that a special federal taskforce — including members of the CIA and FBI — is combing through the material.
The official also said the DNA evidence unquestionably shows that the person shot and killed in the Pakistan compound was bin Laden.
The intelligence officials said they are trying to determine what bin Laden's death means to the future of al Qaeda and are combing through intelligence to get clues on where other top al Qaeda leaders are.
The No. 2 man in al Qaeda is Ayman al-Zawahiri; another top militant is Anwar al-Awlaki, the U.S. born militant who is a leader in the group's Yemen branch.
This week, al-Awlaki eluded a drone attack in southern Yemen as security personnel continue their hunt for him.
Phone call tipped off U.S. to bin Laden compound, source says
Washington (ANN/CNN) — A single phone call by Osama bin Laden's trusted courier tipped off U.S. officials to his Pakistan compound, ultimately leading to last week's raid that killed the al Qaeda leader, a senior Pakistani intelligence official told CNN Saturday.
The telephone call the courier made was "not the final one — it was the initial piece of evidence" that sparked the focus on the compound in Abbottabad, the official said.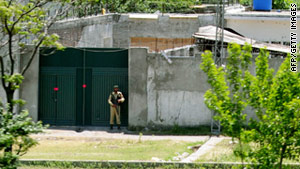 Four years ago, U.S. officials uncovered the identity of a trusted bin Laden courier — later identified as a Kuwaiti named Abu Ahmad — whom they believed was living with and protecting the al Qaeda leader.
The Washington Post, citing U.S. intelligence officials, reported Friday that Americans had intercepted a "catch-up phone call" Ahmad took from an old friend.
"This is where you start the movie about the hunt for bin Laden," one U.S. official briefed on the intelligence-gathering leading up to the early Monday raid on the compound told the Washington Post.
The Pakistani official told CNN the phone call was made by the courier, though he didn't know when.
The courier and his brother were among those killed in Monday's raid. In recent days, the materials taken from bin Laden's compound continued to yield a trove of intelligence, including details about a possible attack on the 10th anniversary of 9/11.
Administration officials were expected to hold a briefing Saturday, focusing on the intelligence aspects of the raid.
As early as February 2010, al Qaeda members discussed a plan to derail trains in the United States by placing obstructions on tracks over bridges and valleys, the alert said, according to one law enforcement official.
The plan was to be executed later this year, coinciding with the 10th anniversary of the September 11 attacks, though no specific rail system was identified, the official said.
The Department of Homeland Security confirmed a notice was sent to federal, state, local and tribal authorities.
"We have no information of any imminent terrorist threat to the U.S. rail sector, but wanted to make sure our partners are aware of the alleged plotting. It is unclear if any further planning has been conducted since February of last year," spokesman Matt Chandler said.
Rail agencies across the United States heightened security.
A U.S. official said that "valuable information has been gleaned already" from the information gathered at bin Laden's compound, though no specific plots or terrorist suspects were identified.
But the material suggests that al Qaeda was particularly interested in striking Washington, New York, Los Angeles and Chicago, according to the law enforcement official who spoke on condition of anonymity.
U.S. authorities have found that al Qaeda appeared especially interested in striking on significant dates like July 4, Christmas and the opening day of the United Nations.
The material seized from the compound included audio and video equipment, suggesting bin Laden may have taped messages there, a U.S. official said.
Ten hard drives, five computers and more than 100 storage devices, such as disks and thumb drives, were also found, a senior U.S. official told CNN.
Dozens of people in Abbottabad have been arrested because of their suspected connections to the compound where Osama bin Laden was shot and killed, a Pakistani intelligence official said Friday. Investigators want to know whether any of the people are al Qaeda members or sympathizers.
Araweelonews Mobile Somaliland Office    
E-mail; Info@araweelonews.com
jaamac132@gmail.com
shalcaw2@hotmail.com