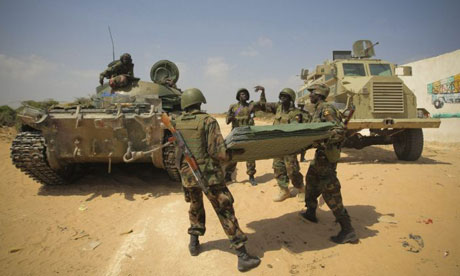 Muqdishu(ANN) A missile launched from an unmanned aircraft killed a foreign fighter with Somalia's al Shabaab rebel group outside the capital Saturday, the al Qaeda-linked militant group said.The militants, who earlier
claimed explosions in the town of Elasha had been caused by artillery fired by African Union forces, said the air strike targeted Bilal el Berjawi as he travelled in a car.
"At around 1400 (1100 GMT), a U.S. drone targeted our mujahideen. One foreigner, a Lebanese with a British passport died," Sheikh Ali Mohamud Rage, al Shabaab's chief spokesman, told Reuters by telephone.
"He was in a car in Elasha. This foreigner is a martyr. Thank God, that is why he came to Somalia," Rage said.
It was not possible to independently verify the report. The United States never comments officially on drone strikes. Al-Birjewi has been in Somalia since 2006 and was helping Al-Shabab fighters in the battle against Somali government and the African Union forces in Mogadishu.
He was once suffered head injuries in a U.S. air attack in Lower Jubba region on July 2011, but recieved treatment in Kenya.
Al Berjawi was the second man to Fazul Abdallah, Al-Qaeda's senior commander in Somalia who was killed in Mogadishu on June 2011 by Somalia government forces.
The Somali government has said hundreds of foreign fighters have joined the Islamist insurgency from countries such as Afghanistan, Pakistan, the Gulf region, and Western nations such as the United States and Britain. Some of them have taken up senior positions within al Shabaab.
Earlier, residents in the Elasha area about 13 km (8 miles) from Mogadishu reported hearing at least two blasts in an area known to be a rebel stronghold.
"We heard two big explosions and then we saw clouds of smoke rising from near the bases of al Shabaab, near the Al Hayaat hospital," Keise Osman, a resident of Elasha, told Reuters.
Shortly after the attack, al Shabaab said a civilian car had been struck and blamed the AU peacekeeping force, AMISOM. A peacekeeper spokesman told Reuters AMISOM had not fired any shells at rebel positions at the time.
Somalis in central and southern Somalia regularly report drones flying overhead.
The United States has authorised covert operations in the Horn of Africa nation in the past. U.S. special forces killed one of east Africa's top al Qaeda militants, Kenyan-born Saleh Ali Nabhan, in southern Somalia in September 2009.
"HALFWAY DEFEATED"
On the backfoot in Mogadishu, al Shabaab are also fighting troops from Kenya, which has carried out frequent air strikes on militant bases.
At a press conference in the Kenyan capital, Nairobi, a Kenyan military spokesman said Saturday that a series of air strikes during the week had destroyed four key rebel bases and brought the militants closer to breaking point.
"Al Shabaab is more than halfway defeated … and this is based on the destruction of their infrastructure," said spokesman Colonel Cyrus Oguna.
The militants, who have fought a five-year campaign to remove the Western-backed government and control much of south and central Somalia, rejected Kenya's claims.
"Kenya (did not) destroy a single al Shabaab base," said Sheikh Abdiasis Abu Musab, a spokesman for al Shabaab's fighters. "It is propaganda."
Kenya's reliance on air bombardments and a slow ground advance on rebel bastions have led some Western diplomats and regional experts to question its strategy and capability.
Kenya, east Africa's biggest economy, initially placed much emphasis on seizing Afmadow and Kismayu, a port city in southern Somalia that is a nerve-centre of rebel operations. More recently, the military's rhetoric has toned down.
"Emotions are running high about when will Afmadow go? When will Kismayu go? We do not play to emotions, we do not play to the gallery. We plan our operations and carry them out when we think the time is appropriate," Oguna said.
African Union-backed government forces in Somalia have launched a fresh offensive to seize al-Shabab positions in the capital, Mogadishu,
Heavy clashes broke out in the early hours of Friday when Somali soldiers backed by tanks and artillery from the African Union Mission in Somalia (AMISOM) moved into Mogadishu's northern Hiliwa and Gupta suburbs, held by al-Shabab fighters.
At least 39 civilians and four Somali army servicemen were killed in the fighting.
"Our soldiers and AMISOM forces launched offensives that have resulted in steady gains such as the capture of Daynile, Hiliwa, Suuqa-Holaha and the whole areas up to Balcad and Afgoye," Somali military commander Col. Abdullahi Ali said.
In a statement, AMISOM said the African Union forces managed to secure the northern frontier of the Somali capital city. It said they also took control of the Mogadishu University and Barakat Cemetery areas.
The fierce confrontation on Friday was one of the worst fighting between al-Shabab fighters and the African and Western-backed government forces.
Several soldiers were reportedly killed when al-Shabab ambushed a convoy of government and AMISOM soldiers near to the frontline. The fighting also forced many people to flee from their homes in search of a safe shelter.
Aeelonews Mobile
Somaliland Office    
E-mail; Info@araweelonews.com
jaamac132@gmail.com   
shalcaw2@hotmail.com