Washington(ANN)House Republicans said Friday they would allow a vote next week on a short-term increase in the debt ceiling, a move that could avert a risky stand-off with President Obama — at least for now.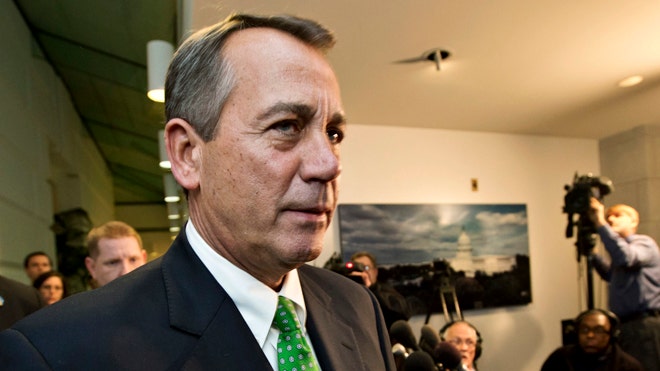 Meeting at a retreat in Virginia, House GOP leaders said they would move on a measure allowing the government to borrow for about three more months. Without an extension, the country is expected to exhaust that authority by mid-February, risking the possibility of a market-rattling default.
While Obama has warned Republicans not to challenge him on the debt ceiling, Republicans still see that issue as key leverage to extract spending cuts from Democrats at a time when the debt is well above $16 trillion.
They made clear Friday that they'd continue to press for deficit reduction, but said the next long-term debt-ceiling vote would be conditioned on Congress debating a bona fide budget.
"Unless the Senate acts, there will be no consideration of a long-term debt-ceiling increase," House Budget Committee Chairman Paul Ryan, R-Wis., said.
The Senate has not passed a full-scale budget since 2009, which has drawn lots of criticism from Republicans but protected Democrats controlling the chamber from politically difficult votes.
"Before there is any long-term debt limit increase, a budget should be passed that cuts spending," House Speaker John Boehner said. "The Democratic-controlled Senate has failed to pass a budget for four years. That is a shameful run that needs to end, this year."
To further pressure Congress, the Republican plan would condition pay for lawmakers on passing a congressional budget measure.
"We are going to pursue strategies that will obligate the Senate to finally join the House in confronting the government's spending problem," Boehner told Republican lawmakers at the retreat. "The principle is simple: `no budget, no pay."'
Senate Majority Leader Harry Reid welcomed the House Republican move, without specifying whether the Senate would support it.
"It is reassuring to see Republicans beginning to back off their threat to hold our economy hostage," said Reid spokesman Adam Jentleson. "If the House can pass a clean debt-ceiling increase to avoid default and allow the United States to meet its existing obligations, we will be happy to consider it."
White House Press Secretary Jay Carney also said: "We are encouraged that there are signs that Congressional Republicans may back off their insistence on holding our economy hostage to extract drastic cuts in Medicare, education and programs middle class families depend on."
Republican leaders have been grappling with how to gain leverage in their battles with Obama over the budget. Boehner successfully won about $2 trillion in spending cuts as a condition of increasing the government's borrowing cap in 2011.
Obama, however, successfully pressed through a 10-year, $600 billion increase on upper-bracket tax payers earlier this month.
Other choke points remain, including sharp across-the-board spending cuts that would start to strike the Pentagon and domestic programs alike on March 1 and the possibility of a partial government shutdown with the expiration of a temporary budget measure on March 27.
Failing to meet those deadlines would have far less serious consequences than defaulting on U.S. obligations like payments to bondholders, government pension recipients and myriad other commitments when the government confronts a cash crisis and can no longer borrow to make payments. That could cause a meltdown in financial markets and would inflame voters already disgusted with Congress.
Boehner has previously invoked a promise that any increase in the government's borrowing cap would be matched, dollar for dollar, by spending cuts or "reforms" that could include curbs on the long-term growth in retirement programs such as health care for the elderly. Friday's announcement did not repeat that specific promise.
The measure picked up support from key Republican conservatives, including the current and former chairmen of the Republican Study Committee, a powerful group inside the House Republican party.
"In order to allow time for the Senate to act, next week's bill will extend the debt limit for three months," the Study Committee said Friday in a statement. "This is a necessary first step as we work to halt the decline of America and puts the focus where it belongs: on the Senate who has failed to do their jobs to pass a budget for more than three years."
Obama's budget is due early next month but is expected to be released several weeks later.
The Associated Press contributed to this report.