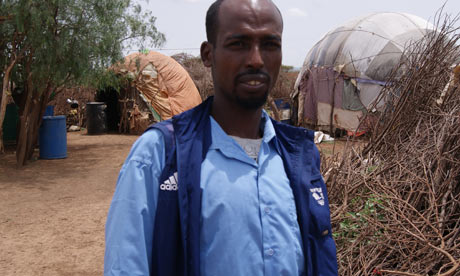 'When he won, I celebrated and gave people gifts of khat and meat,' says Mo's eldest brother Faisal · David Smith in Gabiley
Mo Farah's eldest brother Faisal and his mother Amran will walk four miles to the nearest village with electricity to watch the final of 5,000m. Photograph: Ali Jama Mohamed
The tiny homestead lies deep in the savanna, far from any road; tyre marks in the dirt offer the only trail. Nearby, a cow and a donkey drag a wooden plough in uneasy tandem. Looking on is Faisal Farah, who has receding short hair, two prominent yellowing front teeth – and a blue jacket that says "Team GB".
On Saturday Faisal will walk four miles to Wajale, the nearest village with electricity, to watch his brother Mo race for a second Olympic gold.
Their mother, Amran, who has remained in rural Somaliland despite Mo's success abroad, will be with him in the crowd around the TV, just as she was for the 10,000m final last weekend.
"When he won, I exploded like a bomb!" says Faisal, a farmer who, at 37, is eight years Mo's senior. "I ran out in the streets shouting.
"There were a lot of people delighted and cheering. I celebrated and gave people gifts of khat [a bitter-tasting leaf] and meat."
Mo will run for Britain in the 5,000m, but Somalis will be watching just as closely, claiming him as their local hero. The runner was born in Mogadishu, the capital of Somalia, and his family lives in the semi-autonomous Somaliland region, where Mo returns around once a year to widespread adulation. Locals speak admiringly of him visiting orphanages and refugee camps and setting up a charity. Faisal says Mo has built two houses for the family.
Mo is the fourth of eight children, according to Faisal, who is the eldest. Faisal lives far off the beaten track, more than 40 miles from Hargeisa, close to the Ethiopian border and a world away from the lights and noise and logos of the Olympic stadium. Visitors are advised to travel with armed guards, following a road lined with abandoned petrol stations, trees customarily planted by newlyweds and a sign offering assurance that the area has been de-mined. The final part of the journey requires a Land Cruiser to bump and skid through bushy terrain and muddy quagmires.
In the surrounding farmland are camels, cattle, donkeys, goats and lambs, crops such as cereal and watermelon, and small homesteads with dome-shaped dwellings fashioned from tarpaulins tied with rope. In one, a sickly boy can be seen with flies crawling over his face.
Along the way, women in brightly coloured hijabs walk and wave, hoping for a lift.
Faisal, who must trek to Wajale every time he wants to charge his phone, leans against a tractor and reminisces about looking out for his younger brother when they were growing up. "Mo was always interested in sport:football and athletics," he says. "He always ran in the streets as a child. He was very smiley and happy all the time."
Despite Faisal's age advantage, Mo beat him at running. "We played together, we walked together. We played football and sometimes we raced but he was faster than me. He was a dynamo."
Watching Mo's Olympic glory in London, he feels no sibling rivalry, he insists. "It is as if I myself am running, so I cannot be jealous of him."
Their father was a businessman and the family lived comfortably in a substantial stone house. But Somalia was sliding towards two decades of civil war. "In Mogadishu, everyone was militia," Faisal recalls.
"People in our neighbourhood died or were injured because, like us, they originally came from Somaliland. I remember gunfire and explosions, often targeted at us. I don't like it when the memories come back. I try not to remember."
The family moved first to Somaliland, but conditions were harsh. "We were refugees. We left our business and money. We were poor, living in a very small tent in a refugee camp. The country was destroyed and there was every problem, like lack of food and power. Luckily Mo was a healthy boy."
They then sought relief in neighbouring Djibouti, while Mo's father returned to London, where he had been born and raised. Mo followed at the age of nine and joined his extended family in Hounslow, barely able to speak English. Faisal had no desire to follow.
"Mo went for better life, but I don't want to go there," he muses. "I like the benefits of this country. Of course I miss my brother but he communicates by phone day and night. He tells me, 'If you starting training, maybe you will reach the Olympics one day!' When he comes back each year, we share a lot of stories."
It is difficult for their parents to live continents apart, Faisal adds, "but my mother doesn't want to go there. She doesn't like the city."
Neither Faisal nor others here seem too troubled by Mo wearing adopted British colours. He continues: "He's a Somali, whichever flag he holds, and he's my brother. He can be a double citizen. If he ran with the Somaliland flag it would be great, but he has British nationality so he must run with the British flag this time. We hope he will run all the way and be a famous man."
Somaliland declared independence in 1991 but is still not internationally recognised as distinct from Somalia. Faisal says that, although he and Mo were born in Mogadishu, they still regard Somaliand as home. Mo has previously posed for photos with the tricolour of Somaliland, not Somalia's flag of a white star on pale blue.
Edna Adan Ismail, the former foreign minister of Somaliland, says: "Mo Farah may have been born in Mogadishu, as were many Somalilanderswho happened to be working or living there during the time when Somaliland and Somalia were united, but he is not from Somalia. He is from Somaliland. He is from the Isaaq clan, and Jibril Abokor sub-clan, who are not natives of Somalia.
Ismail, widow of the former prime minister and founder of a university hospital, adds: "Somalilanders were elated and were greatly celebrating Mo's victory. Although he ran for Britain, he is one of ours and his achievements can only make us proud and can also be regarded as yet one more connection with the British empire."
But south of here, in Mogadishu, Mo has plenty of fans who care little for politics but a great deal about hope. Unhappy the land in need of heroes – the line is apt. Although a combination of insecurity, poverty, Ramadan and a two-hour time difference means there will be few public gatherings to watch Saturday's race, it seems almost anyone with satellite TV at home will be tuned in.
Among them is Amal Mohamed Bashir, 18, who watched the 10,000m with her mother and sisters and jumped to her feet when Farah clinched gold. "It was a very big night for me because he has a Somali name and Somali origins," she says, wearing a headscarf, Real Madrid shirt and red and black skirt. "Whichever country he runs for, he's still Somali."
Bashir, a sprinter who says she was denied a place in Somalia's two-person team in London because of a bureaucratic mix-up, adds: "I'm very proud of him; I'm one of his biggest fans. He has talent and capability and we are trying to follow in his footsteps. It gives us a power because he's Somali, he did it and won it. I can try to do it and win it. I hope to be like him."
Earlier this week Bashir could be seen with 20 other young hopefuls pounding the dust of Mogadishu's battered and bruised Konis stadium.
Goats clambered on the surrounding concrete terraces, makeshift tents for the displaced and destitute populated a nearby hill, and the smashed remains of a wall testified to two decades of anarchy.
But Mo's achievements chime with a growing sense of optimism and possibility among Somalis returning from the diaspora as the bloodshed slowly declines. Jabril Ibrahim Abdulle, director of the Centre for Research and Dialogue, says: "We Somalis are running short of heroes to be honest with you. At the end of the day, he's the first ethnic Somali to win an Olympic gold."
Asked whether Mo could inspire a new generation, Abdulle adds: "It's a question of how much it's publicised. I don't see Somali kids taking it right now in the middle of Mogadishu and saying, 'I want to imitate Mo Farah', because of other issues. But of course if he comes here and gets a hero's welcome, that could change things."
Mo's victory did create huge buzz among Somalis inside and outside the country using social media. There was no mistaking the symbolism.
"Tonight, the little giant rose to amazing heights," said one message that was rapidly circulated after the 10,000m. "Tomorrow, we as a nation can do the same. After all, Farah is our own."