CAIRO (ANN) – A tour bus slammed into a truck in southern Egypt on Sunday, killing eight American tourists and injuring 21 others in the latest fatal crash involving tourists, the state news agency said.
The bus was taking a tour group on the 115 mile journey from Aswan to the ancient temples of Abu Simbel, when it ran into the truck carrying sand parked on the side of a single lane desert road, killing six women and two men.
The Egyptian driver and a guide were also injured in the accident.
Egyptian security officials said the hurt Americans were first transferred to a military hospital for treatment and then 10 of the injured, including two Egyptians, were airlifted to a hospital in Cairo.
An official of Misr Tours, which was running the bus service, said the accident occurred around dawn while it was still dark shortly after the bus left Aswan.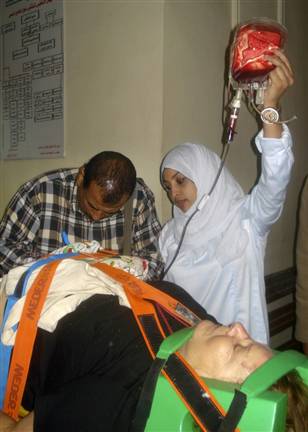 The official said the group was part of a larger tour of 116 American tourists who were traveling in three buses.
The other buses did not continue to Abu Simbel, and instead returned to Asawn, he said, declining to be identified.
Moved to Cairo
The U.S. embassy in Cairo confirmed that the injured are being moved by military transport to Cairo.
"The Embassy of the United States in Cairo is deeply saddened by the traffic accident in Aswan that has led to deaths and injuries among American tourists," the embassy said in a statement.
The Great Temple at Abu Simbel, known for its four colossal statues, was built during the reign of Ramses II and was dedicated to the god Amun. It is considered one of the most beautiful ancient monuments in Egypt.
Road accidents are common in Egypt because of bad roads and poor enforcement of traffic rules, and crashes involving tour groups are not uncommon.
Last month, eight foreign tourists were killed when their tour bus lost control and flipped over several times on a winding mountain road near a resort on Egypt's Red Sea coast, while in October six Belgian tourists were killed in a crash in the south.
Following last month's accident authorities closed several travel operators after complaints of inadequate safety measures and bad driving.
Misr Tours is a joint stock investment company and one of Egypt's leading full service ground operators.
An estimated 8,000 people die in car accidents annually in Egypt.
The Associated Press contributed to this report
By,  Carraale  M. Jama  Freelance Journalist and Human Rights Activist 
Araweelonews Somaliland Office    
E-mail; Info@araweelonews.com
jaamac132@gmail.com
shalcaw2@hotmail.com