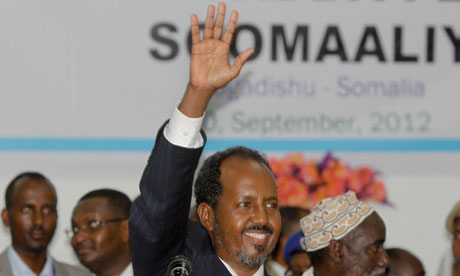 Somalia's new president Hassan Sheikh Mohamud after being elected by MPs. Photograph: Farah Abdi Warsameh/AP
Mogadishu(ANN) Celebratory gunfire erupted in Mogadishu on Monday night after Hassan Sheikh Mohamud defeated incumbent Sheikh Sharif Sheikh Ahmed to become Somalia's new president.
It is the first time since the 1991 overthrow of president Said Barre that a new leader has been chosen inside the country, a development hailed by the UN as a sign of improving security. But the process has been tainted by allegations of bribery and corruption.
MPs marked their ballot papers behind a curtain before casting them in a clear box in front of foreign envoys and hundreds of Somali men and women. In a surprise result, Mohamud won a runoff by 190 votes to 79 after the first round failed to produce a clear winner.
Mohamud, 57, is a professor and activist who has worked for several national and international peace and development organisations including the UN children's agency Unicef. Last year, frustrated by Somalia's dominant clan system, he founded what he claimed was the first political party in Mogadishu, the Peace and Development party.
Touching a Qur'an with his right hand, Mohamud was sworn in as president within minutes of his poll victory. Ahmed, the outgoing president, conceded defeat after the onlookers in the hall spontaneously stood up and sang the national anthem.
"I am happy to see the first free and fair election happen in Somalia after 40 years," he said. "I want to congratulate the new president for the fair election, and I want to declare that I am fully satisfied with the results."
Outgoing prime minister Abdiweli Mohamed Ali, who threw his weight behind Mohamud's candidacy, said the result heralded a new era for Somali politics. "Somalia voted for change," he told Reuters, adding it was too early to say if he would take part in the new administration.
Among the countless issues in the new president's intray will be piracy off the Somali coast, which has led to millions of pounds worth of armed defences for international shipping. In an interview with the Guardian at his office in Mogadishu last month, Mohamud accused foreign powers of hypocrisy.
"Somalis are confused," he said. "The international community is putting a lot of resources towards it. Why not address the illegal fishing in Somali seas? People are getting the notion that international forces are there to protect the illegal fishing. The Somali fisherman cannot go to the sea because he will be considered a pirate."
Referring to allegations that European firms dump toxic waste off the Somali coast, he added: "Why the international community not say anything? It's delicate."
But Mohamud rejected the idea of offering pirates an amnesty. "That will only encourage more. They have to be given some incentive but not that. Give them skills and rehabilitation and the opportunity to learn a better life.
Although Islamist militant group al-Shabaab has been driven out of Mogadishu, assassinations and suicide bombings remain a constant threat. As president, Mohamud will now be a prime target. He admitted: "Anybody who lives here in Mogadishu always lives under enormous risk. We have a coping mechanism but it doesn't always work.
"The fear factor is very strong. It makes the people quiet, it makes people behave differently. If we let the fear factor control us, we will never move ahead."
Mohamud has received threats from al-Shabaab in the past. "Someone called my wife to say, 'You'll have to take care of your orphan soon.' Al-Shabaab targets everybody who is doing something against them– a woman in civil society, a traditional elder, a businessman, a religious leader.
"Al-Shabaab is not an ordinary militia like a clan militia. It is an ideology. You cannot fight an ideology only. That is what the government is doing. Military al-Shabaab is defeated; the areas they control are because nobody wants them, but still the ideology is there. We need a multi-faceted war against them. If we continue like this, the suicide bombings will continue."
Continued peace in Mogadishu is far from assured, he said. "If Amisom [African Union forces] left the state house, the president will not be there. Somalia doesn't have 100 trained soldiers capable of defending it. They are killing machines, trained in militia camps. They do not see themselves as servants of the people.
"If you go through Mogadishu, you can see it is different from 18 months ago. But the question is, how sustainable is this? It's still very fragile. Amisom cannot be here forever. We Somalis need to have our own security forces."
During the interview, Mohamud presented himself as a political outsider untainted by the UN-backed transitional federal government (TFG) and its "failure of leadership". In July, a UN report said it had found that out of every $10 in revenue raised between 2009-10, $7 had never made it into state coffers.
Graft had become endemic, Mohamud said. "The leaders see the state as a money-making machine. They don't want to confine their power. Corruption was an important factor that contributed and still does today."
He said the selection of MPs was flawed but his party had backed the process and a new constitution. Little guessing that he would emerge the victor, he added: "It is a defining time in Somalia. I'm not saying Somalia will get what it deserves but it will be better than the status quo."
Mohamud graduated from the Somali National University in 1981 and went on to study in India, where he obtained a master's degree from Bhopal University in 1988. He returned home and taught as a professor, including at the Somali Institute of Management and Administration Development, which he helped found in 1999. Its goal is to train administrators and technicians who can help rebuild the country.
The vote was seen as a culmination of a regionally brokered and UN-backed roadmap. There has been no effective central government control over most of the largely lawless country since the outbreak of civil war in 1991.